Where have I been? After escaping from the National Harbor/New Urbanizm Nightmare where I spent an unbearable 5 days at a self-serving conference for rich people, I took a mini-vacay. Mr. MiddleChild and I hit the beach, which really helped me prepare for my first triathlon.
Sunday saw a lot of firsts for me: first open water swim, first triathlon, first endurance race. The race was a sprint distance – 750 m swim, 15 mile bike, 5k run.
Wow, I am addicted. I've never done endurance sports before and after training for 14 weeks I was ready for this race. For all the urbane details, read on…
I joined the tri club at my gym that gives 18 weeks of coached training to new triathletes in preparation for the Philadelphia Triathlon on June 22. A teammate and I decided to do a sprint distance race this weekend to test out our readiness and practice transitions. The play-by-play:
My transition area set up before the race.
The swim was a little scary; I will definitely warm up in the water next time. Once the field spread out a bit and I could just relax and pull I was okay, but I had a lot of anxiety for the first 200 meters or so. The wetsuit helped with flotation, which I really needed for my first open water race.
I felt really dizzy after I got back to my bike and pulled off the wetsuit. I took a minute for the dizzy feeling to go away, downed a Clif shot and ran up the grassy hill to start the ride. My transitions were terribly slow – over 3 minutes from swim to bike and over 2 minutes from bike to run. Something to work on.
The bike was fun though my legs could tell it had been a while a couple of weeks since I actually rode. Rolling hills made for constant work and a slower pace than usual. I got excited when I passed someone who was in my age group (they write your age on your calf – this way you can know if you are passing/getting passed by someone you're racing against).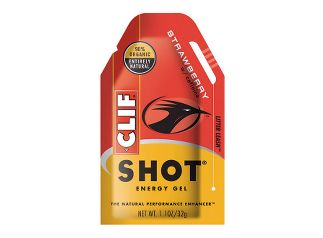 The transition out of the bike was faster with just a change of shoes. I bought triathlon laces for my running shoes – these are basically elastic bungees that replace the laces and make it so you can just slip your shoes on quickly without tying. I took the second Clif Shot before leaving the transition area because you need to have water with it, but I think next time I'll just carry it out on the course.
A word about the bike-to-run feeling: When we do workouts with the team where we bike and then run, it's called a brick. This is because when you start running after biking, it feels like you're carrying bricks in your pockets. I not only felt like I was carrying bricks but that I was hitting a brick wall.
After about a half mile, I started to loosen up and I finished the 5k run in 24:03 – definitely a PR since I don't think I've ever run a sub-8:00 mile in my life and that was a 7:45/mile pace. I passed another woman in my age group, so I knew I was doing pretty well.
The coolest part was coming down the finish chute and hearing the announcer say "Here comes MiddleChild, 24 years old from Washington DC!" Sure, he did it for everyone, but for someone who loves attention as much as I do, it pretty much made my day.
The people watching at a tri is intense – everyone from moms to Army guys with the crazy bike helmet do triathlons.
I finished in 1:38:49, about 16 minutes slower than I had guessed by adding up my speeds for each sport, but good enough for 2nd place in my age group. The woman who won overall was 44 years old – guess I've got some work to do.